Grow Deep
Grow Deep
Read and Reflect on Scripture
We read Scripture because it points us to Jesus. He is the center and the fulfillment of all Scripture. Each month we recommend various YouVersion BibleApp reading plans and send daily text reminders to Grow Deep subscribers.
NEW TO Grow Deep?
Webster Gardens reads and shares GROW DEEP daily devotion readings through the YouVersion Bible App. Subscribers receive daily text reminders with a link to the selected congregation-wide reading plan, and participants can read the selected plan or choose other plans on the YouVersion site as interests and needs lead. Our prayer is that you will invite others to read with you and these resources will help you and your friends better ENGAGE in God's Word together.
The YouVersion Bible is full of special features to help you engage with God's Word including:
CUSTOMIZATION: It's your Bible shared across preferred devices-where you can personalize different settings for how you want to engage with Scripture, and use YouVersion functionality to highlight, bookmark, and add notes to specific Bible passages.

"PLANS WITH FRIENDS": You can invite friends to read with you by using "Plans with Friends". Add individuals from your small group or other close friends to your list, and then send invites as you start plans. Share and discuss the plan together, and discover things in God's Word that you might not have noticed on your own.

SHARING FUNCTIONALITY: Users can easily share Bible passages and verse images on social media, in texts, or via email from the app.
HOW DO I GET started?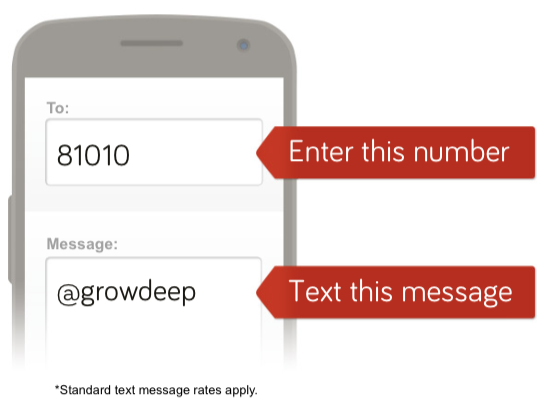 To receive daily text reading reminders, text "

@growdeep"

to

81010

. O

pt-out of messages at any time by replying, "unsubscribe@growdeep."
You will need a YouVersion account in order to read plans and use the many personalized Bible App features that can be shared across preferred devices.
You can Download the Bible App here for your mobile phone or set up a YouVersion account at www.Bible.com for your personal computer or other devices.
Take some time to look through the options and settings in the MORE menu on the app or Settings Gear online to personalize your BibleApp experience.
You can add friends to your app or online account. YouVersion sends an invite and when your friends accept they'll be in your friend list.
FROM A PLAN: When you start any reading plan, click on START PLAN, select WITH FRIENDS, select the date you want to start reading, and then use the invite arrow to access your friends list and send invites. If you don't have friends in your app list, you can

share

the link from the bottom of reading plan page to your friends. When friends accept invites, they'll be reading the plan with you. (Watch how to add friends video)
TO ADD FRIENDS INTO YOUR FRIENDS LIST IN THE APP: Click on the on COMMUNITY on the top menu, and then use the ADD FRIENDS button to select friends to invite from your contact list on your phone or through social media.
TO ADD FRIENDS w/ ONLINE ACCOUNT: From your YouVersion account online, click on the people icon from the top menu and then add your friends.
Help point people to Jesus! If you have questions or need help please call our church office at 314.961.5275 for assistance.