Old Staff Page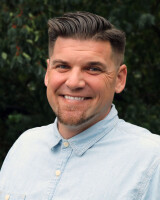 Dave McGinley
Senior Pastor
E-Mail:

Pastor Dave was born in Milwaukee, grew up in Chesterfield, MO, until middle school, and then lived in Woodbury, MN, until college. Pastor Dave was raised in the Lutheran church, getting baptized at Our Redeemer Lutheran Church in Wauwatosa, WI, at just a few weeks old and then confirmed at Woodbury Lutheran Church in Woodbury, MN, as a teenager. His family attended church regularly and enjoyed finding ways to serve and put their faith into action, which opened Dave's eyes at a young age to how the church is unique in its servant attitude: We are called not to just think of ourselves but to focus on others as Jesus did. Pastor Dave married his wife Gretchen in 2008 and has three awesome kids, Malachi, Raelynn, and Romy. As a family, the McGinleys like to be active. The family tries to eat dinner together every night and answer these questions: Where did you see God today? What was your favorite part of the day?
Pastor Dave developed a strong relationship with Jesus during his college years. Encouraged by a mentor, he felt called to pursue ministry as a full-time career, and subsequently transferred to CUC, where he studied to be a Director of Christian Education (DCE). Pastor Dave served his DCE internship and first call at St. John Lutheran Church and School in Defiance, IL, for a total of 2.5 years. His next call took him to be Youth Leader at Grace Lutheran Church in Knoxville, TN, where he served for 2.5 years. While Pastor Dave enjoyed youth ministry, he always felt called to ultimately be a pastor and moved to St. Louis in the summer of 2012 to attend Concordia Seminary. While at the seminary, Pastor Dave and Gretchen went through the Church Planter Assessment Course and ultimately felt led to pursue church planting with Pastor Dave's first pastoral call.
Pastor Dave's first call as a pastor was to serve as an Associate Pastor at Trinity Lutheran Church in Chicago, a multi-site church with four locations serving the greater Chicago area. Pastor Dave served on the multi-site Leadership Team and was the Lead Pastor at the Trinity Galewood location. Pastor Dave's call to Trinity was specifically to start a new church location in an old building that had closed two years earlier, and by the grace of God and through lots of prayer, he focused on community connections, wise strategic moves, creativity, and building relationships while he was there. In July 2021 Pastor Dave accepted the call to be the next Senior Pastor at Webster Gardens, and we are excited to see how God will work through Pastor Dave as he leads and partners with our community to shape WG ministries into the future.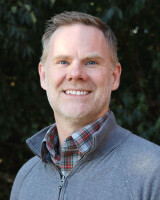 Brian King
Pastor of Family Ministry
E-Mail:

I partner with families and children from birth through eighth grade, so that parents and kids grow in their faith in Jesus. I get to experience the joy of baptizing babies, coming alongside parents as they open their Bibles with the children, and go on retreats with middle school students who are preparing to confirm who they are as members of God's family. God led me here by placing great leaders in my path who have inspired me to serve in ministry. Starting with a background in youth ministry, I'm most passionate about seeing families grow in their faith together and live a life with meaning and purpose that only comes from knowing Christ. I've been at Webster Gardens since 1998, and I was ordained as Pastor in 2011. I graduated with my bachelor's degree from the University of Michigan and then gained my Master of Theology at Concordia Seminary.
I'm blessed to be married to Liz since 1998, and we have a son, Simon, who is in high school and a daughter, Alice, who is in middle school. Liz and I moved to St Louis when I was invited to join the team at Webster Gardens. We didn't know how long we'd be here (a couple years? Five years?), but we fell in love with this congregation and have been here ever since. The people are welcoming, and I don't know anyone I'd rather serve with than God's people at Webster Gardens. We're blessed to be able to raise our kids in a community centered on Jesus! Bonus evidence: over the years, we've imported both sets of our parents from Michigan to St Louis who became members at Webster Gardens. Outside of ministry, I love to draw, especially cartoons. I also like reading and watching Bill Murray movies (others movies too, but I didn't want to be too vague). I've also never seen a documentary that I didn't like. I have gone for an annual skydive for the past 10 years, and something you also might find interesting about me is that I can say, "The horns of a mountain goat can be used as bugles" in over 20 different languages.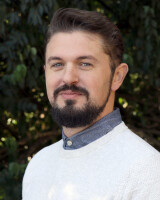 Will Murphy
Pastor of Worship & Creative Arts
E-Mail:

Will joined the Webster Gardens Staff in 2022 after serving for 12 years as Director of Worship and Youth Ministry at Hope Lutheran in Bonita Springs, FL. He is a relational leader who works to create worship experiences that embody and embrace Webster Garden's mission: TOGETHER we will develop generous disciples who Know & Enjoy God in Worship, Read & Reflect on Scripture, and Serve & Share the Gospel.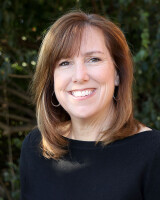 Kim Jacobs
Director of Operations
E-Mail:

I serve the congregation by providing leadership and business expertise in the areas of finance, personnel, information technology, communications, facilities, and ministry operations support. I am most passionate about helping leaders simplify ministry work so they can focus their time supporting people through relationships and discipleship development. My education includes a BSBA in Finance and MBA, and my professional experience includes roles in corporate finance, sales, and operations with both Pepsi and Energizer. Before coming to Webster Gardens I also spent 13 years as a stay-at-home parent volunteering in a wide variety of leadership roles for many different local nonprofit organizations.
I married my wonderful husband, Eric Jacobs, in 1992-we met after we interviewed for the same position with Pepsi and they ended up creating two positions and hiring both of us. God has blessed us with two amazing children, Drew and Kristen, who are now young adults starting their professional careers and exploring new experiences on their own. I enjoy spending time with family and friends, whether that be traveling, socializing, watching movies, or playing games.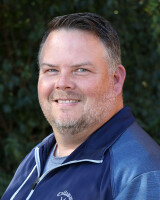 Tim Ellis
Membership & iServe
E-Mail:

Director of Connections & iServe Ministries
My focus is to help connect guests during the membership process and connect members with volunteer opportunities serving the community and the church. My passion to help serve others is what led me to enter into ministry. I also am committed to help build disciples to serve in our communities. I have found Webster Gardens to be very unique in that it is a congregation of all ages wanting to truly serve our community. I have worked at Webster Gardens since April of 2018. Prior to working at Webster Gardens, I worked twenty-three years in restaurant management with the last six years being a District Manager. I attended McGavock High School in Nashville TN, and Middle Tennessee State University in Murfreesboro TN.

I am truly blessed with a wonderful family. I am married to Amanda Greer and have three amazing boys; Jackson, Parker, and Brooks. Outside of the church I enjoy coaching sports for my boys, cooking, attending sporting events, and camping. One fun fact about me is that I once dropped an Albert Pujols foul ball on National TV.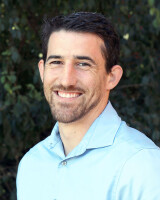 Zech Teasdale
Small Groups, Women's and Men's Ministries
E-Mail:

Director of Groups
I develop leaders, programs, and relationships that further the kingdom by creating opportunities for people to hear and grow in their knowledge of Jesus Christ. There are so many people feeling guilty, worthless, alone, unforgiven, and ashamed, and I am very pleased to be able to give such a large portion of my time and effort to developing ways to bring the truth of Christ to people. Our Father wants everyone to know he values them and wants everlasting life for them. One thing I love about Webster Gardens is its openness to go wherever the Lord calls. Our customs, comforts, and fears do not stop us from doing what we believe God wants us to do. Prior to Webster Gardens, I worked as the Director of Christian Education for three years at St. John Lutheran Church in Defiance Ohio. I've also had jobs in retail, the food industry, and early childhood education. I graduated high school from Concordia Lutheran in Fort Wayne and then graduated from Concordia University in Chicago.
I am married to my wonderful wife Darcey, and I've been incredibly blessed to be raised by my parents, Sue and Jim Teasdale. I have three brothers, two sisters-in-law, and a beautiful niece and nephew. My brothers have been a huge influence in my life, and I praise God for the ways they have blessed me! I find it pretty challenging to find something I can't find joy in. I really enjoy anything to do with physical activity. I play basketball, frisbee, and football whenever I get the chance. I enjoy Crossfit and am currently doing kickboxing. Interestingly enough, in college I cracked my skull doing a jump while wakeboarding (And no, the hairless section on my head is not from a failed attempt to cut my own hair!). Other than recreation, I enjoy working on my house when I get the opportunity, and I'm passionate about people. I enjoy making life better for people, and it's important to me that I do my part to make sure people know Christ values them.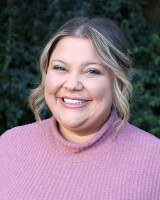 Stephanie Bowman
Seniors, Missions, and Spiritual Life Ministries
E-Mail:

Adult Ministry Coordinator
Stephanie works with church members and community leaders to address the unique needs of adults and opportunities for growth as Christian disciples. Stephanie oversees our Seniors, Missions, and Spiritual Life Ministries, and she joined our staff in 2022 after 5 years serving as a Lutheran school teacher. She has been a member at Webster Gardens since 2000. We look forward to seeing how God will work through Stephanie to engage and encourage adults as they grow as disciples through ministry opportunities.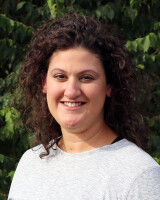 Emily Schatz
High School & Young Adult Ministries
E-Mail:

Emily Schatz joined our staff in 2021 as Director of High School and Young Adult Ministries. When we first met Emily we were impressed by her vision for ministry, and her clear understanding of developing teams to guide students and young adults through key transitions in their lives. Emily's commitment to Biblical teaching and discipleship, and not shying away from tough topics that students and young adults face, make her a great fit for this position. As an added bonus, Emily is a St Louis native who knows the area and knows our community.
Emily Schatz graduated from Concordia University Chicago in 2016, and has served at two churches over the last 6 years, at Epiphany Lutheran Church in Washington for 3 years and then Shepherd of the Hills Lutheran Church in Colorado until April, 2021. Emily has focused on middle school and high school students in both calls, but also took on generalist ministry duties as needed. Emily grew up in St. Louis and recently moved back here with her husband and two daughters to be closer to her parents and extended family. Emily wants to serve in ministry where she can best use her gifts to help ministry leaders and participants work together to grow in faith and see ministries thrive. She describes the best part of her job to be the time spent building trust and relationships with students on their own turf.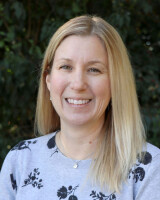 Stephanie Williams
Children's Ministry Coordinator
E-Mail: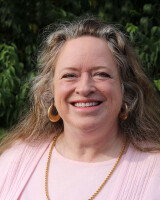 Debbie Rehmer
Worship Production
E-Mail: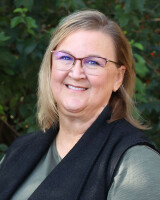 Karen Kramer
Director of Communications
E-Mail:

As the Director of Communications, I connect people to Christ and His Church through various forms of communication including electronic, visual, and verbal. I've been working at Webster Gardens since May of 2018. Prior to working at Webster Gardens, I was a Graphic Designer and Creative Director with Southwestern Bell, and Communication/Events Coordinator with Cortex. I have a Bachelor's Degree in Fine Arts-Graphic Design from Missouri State University and a Master of Arts Degree in Media Communications from Webster University.

I have been married to my husband Gerry for over 26 years, and we have three boys; Connor, Carter, and Cole. Our oldest son is currently working as an electrician's apprentice, our middle son Carter is a freshman at Mizzou studying engineering and Cole is a senior at Lindbergh High School. Outside of the church, I have been an active volunteer on my son's school parent board for many years. I also love supporting my son's participation in soccer, basketball, track, and volleyball activities. I enjoy reading, and I also enjoy watching British Drama TV series---and will admit I have on occasion succumbed to binge-watching. My special place to spend time is on the beach on the Emerald Coast in Florida. Fun fact about me is that the first Director of the St. Louis Zoo was my great-great-uncle George Vierheller who was honored with a bronze statue still on display at the Zoo.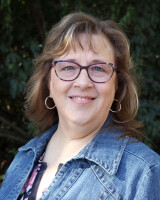 Holly Pecher
Office Coordinator
E-Mail:

I provide administrative assistance to the staff that supports their ministries. I enjoy helping people and sharing God's love with them. God truly led me to Webster Gardens when I lived in St. Louis in 2015 and then opened the door for me to work here since March 2017. I love and respect the pastoral staff at Webster Gardens. They are the real thing, they truly love people, and they love to make us laugh. Prior to working at Webster Gardens, I was a Medical Secretary in Neurology, BJC/Washington University for fifteen years.
Outside of the church, I love to sing and play piano. Sewing 1,000 beads on a wedding veil, or dress, is a fun past-time for me as well. But my true passion is spending time with my family. I have two daughters, Noelle and Destiny; Landon, my wonderful grandson, who is in elementary school; and Emma, my adorable infant granddaughter. I love to do projects with my grandson. We did VBS together in the summer and we planted a pumpkin patch.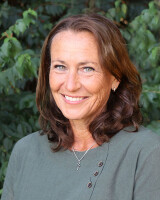 Lori VanCardo
Director of Facilities
E-Mail: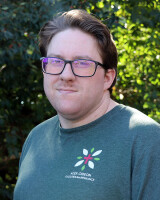 Alex Gideon
Custodian
E-Mail: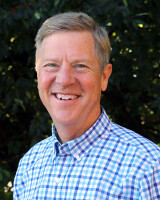 Pastor Joel Christiansen
Bible Classes & Special Projects
E-Mail:

I love communicating the Gospel and sharing how the message of Christ impacts every area of our lives. I desire for people to experience the lasting joy and fulfillment that comes from a relationship with Jesus Christ. Instead of spending life burdened by fears, anxiety, and unsatisfying pursuits of temporal matters, I want people to find the freedom and forgiveness that God offers to everyone. I served as the Webster Gardens Senior Pastor for twenty-six years and retired in 2022. I now serve as an assistant Pastor helping our community with pastoral care, Bible Class oversight, and other special projects as needed.
Prior to my years as a pastor, I received a bachelor's degree from Valparaiso University and a Master of Divinity from Concordia Seminary in St. Louis. God has blessed me abundantly with a wonderful family. I was married to my wife, Lori, for 37 years before she died in 2015. Our daughter, Rachel, is married to Ryan Taube, and they are members at Webster Gardens. Our son Andrew is married to Hannah, and they live in Omaha, Nebraska. In God's surprising way, He placed Mary Cernik into my life and we were married in 2019. In my free time, I love cycling and reading. Ironically though, my love for cycling has led me to have two different titanium plates inserted into my same collar bone as a result of my crashes!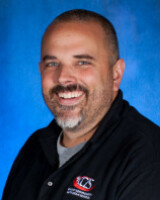 Joel Hieber
Associate Director of Worship and Creative Arts
E-Mail: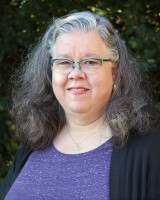 Patty Smith
Financial Admin
E-Mail:

I assist our accounting department at Webster Gardens by working with accounts payable, and assisting with other duties as requested. I'm most passionate about God's love being reflected in our relationships with one another. One of my functions in the body is to take care of the fine details, which frees others who have the gift of being a visionary and seeing the big picture. I love that the pastors here desire and work toward people encountering God and growing in their faith, while genuinely caring for the people God has entrusted to them. Prior to Webster Gardens, I was a part of the administration team and a bookkeeper for a local prayer ministry for more than 10 years. I also worked in the accounting department for a large downtown law firm for 15 years, and I was a stay at home mom for more than 12 years.
I'm married to my husband, Dave, and we have five grown children: four daughters, one son, one son-in-law, and two grandchildren. Also, my children just happen to be born in alphabetical order! (Jen, Katie, Lisa, Melissa, Nate.) What if God had sent them at different times?! I love to attend my Bible study and learn more about God's love and the relationship He desires to have with us, so much so that we could be reconciled to Him through his death and resurrection on the cross. There is also something truly great about watching the "puzzle pieces" come together as I, or others, see God's plan form in our lives and glimpse the amazing love He has for us. In my free time, you can also find me doing puzzles.