Call Process
Our Senior Pastor Call


Current Focus of Call Committee /Update:
In light of the current pandemic, the call committee briefly paused following its announcement. We are beginning to resume this process, and we look forward to gathering your thoughts through a survey and soliciting your nominations beginning later this summer. For the time being, we are asking for your patience. Thank you for your support.

There are a variety of phases involved in this process, and we will continue to update the congregation as we move forward. We are currently on phase one. If you have any questions, please feel free to contact the committee at .
Update Posted: 06/03/2020
The Call Committee
The Call Committee executes the process we use to bring new pastors to our congregation. The reason we call it a "call" process is because we believe that not only are we inviting someone to lead us but we also believe that this is a "call" from God.
The Call Committee is comprised of six members known for their discernment and leadership. These individuals have continuously shown a commitment to our church and our future. We are thrilled that they will share the gifts God has given them, their time, and their prayerful discernment.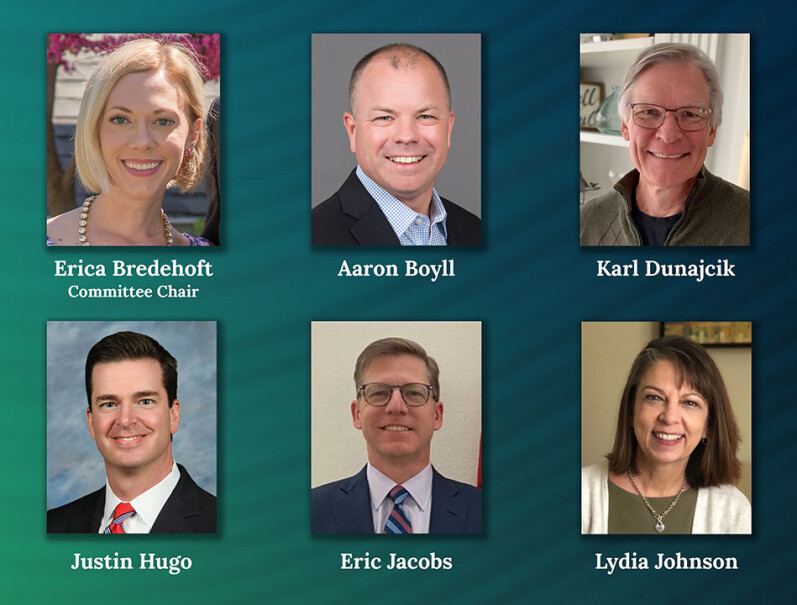 Call Process FAQs
What is a call process and how does it work?
The call process is the method we use to bring new pastors to our congregation. The Call Committee will finalize the Ministry Description based upon the results of a congregational survey. After praying, evaluating, interviewing candidates and listening for the Holy Spirit's leadership, the Call Committee will make a recommendation to the Board of Directors and then to the congregation for our next Senior Pastor. This process may take up to two years. While this may seem unnecessarily long, it is of utmost importance for us to seek the Lord's guidance and to find the right fit for our congregation.
When is Pastor retiring?
Pastor Christiansen has led Webster Gardens for almost twenty-five years and he continues to lead us well. Pastor plans to retire from full-time ministry here at Webster Gardens at the end of 2022. He and his wife Mary look forward to how God will continue to use them in ministry after his retirement.
Pastor Christiansen and our lead staff firmly believe it is important to plan for the future. In order to be sure we have the right staff in place when he retires, we are beginning this succession process now. We look forward to a smooth transition as well as a valuable time of overlap with Pastor Christiansen and our next Senior Pastor.
What are the phases of this process?
Phase One: Establish the Call Committee, inform congregation of the process
Phase Two:

Solicit congregational input, including survey

Phase Three:

Call Committee finalizes a ministry description, distributes the description, and begins soliciting nominations for candidates

Phase Four:

Call Committee begins interview process including initial phone interviews and subsequent on-site interviews; Call Committee establishes a time for the final candidates to meet the congregation

Phase Five:

Committee will submit a nomination to the Board of Directors who, on approval, would then submit it to the congregation for approval

Phase Six:

The Congregation will pray, extend a call to the candidate, continue to pray for the candidate, and wait for the candidate's response

Phase Seven:

Upon acceptance of the call, we joyfully welcome God's chosen leader as our next Senior Pastor
What role do I play?
As part of Phase Two, you will be receiving a survey to ensure that the Call Committee has a good understanding of the priorities of the congregation. You will receive an email when the survey is ready, and it will also be posted here. During Phase Three, you will be asked to nominate qualified candidates to be considered. During Phase Four, you will have an opportunity to meet the final candidates. During Phase Six, you will be encouraged to join in praying as we prepare to extend the call for our next Senior Pastor. During this entire process, we invite you to pray fervently.
We want to hear your thoughts, suggestions, and concerns. Please feel free to contact the committee at . You are also welcome at any point to reach out to any of the committee members, and they will do their best to answer any questions you might have.
How do I get updates about what is happening with the process?
Updates will be posted here throughout the call process and congregation-wide emails will be sent as well when there are any important updates. The Call Committee and staff are committed to a transparent process, so please do not hesitate to reach out at any point.
So now what? We ask for your prayers as we begin this process. We know it is God's church and we are excited to see what He has in store for us!