Week One: September 10-16
We Belong
"Now if the foot should say, 'Because I am not a hand, I do not belong to the body,' it would not for that reason stop being part of the body… But in fact God has placed the parts in the body, every one of them, just as he wanted them to be." - 1 Corinthians 12:18
Middle school years are probably the most awkward years of a person's life. Our bodies are changing, but not in any coordinated fashion. In sixth grade, I had reached nearly my full adult height, but little of the muscle structure to support it. I was still singing soprano with the girls, while other guys were sounding like men. Middle school was like being in the "middle" of nowhere.
I was in the "middle" when it came to athletics too. I wasn't a star athlete, but I wasn't terrible either. Our school had two basketball teams. They were classified, "heavy weights" (which was where the action was) and "light weights." I was a light weight. I was tall and clumsy. I lacked the coordination to move and shoot well at the same time. Most of the points I scored were from the free throw line.
One day, I was called out of class to the gym office. My classmates stared. I was sure I was in trouble. I stepped into the coach's office and to my surprise he told me that he was going to move me to the "heavy weights." It turns out there was a formula of weight and height that qualified one to play in that classification. So at 5 feet, 10 1/2 inches tall, weighing a gaunt 118 pounds, I accepted. The coach chose me for this, and I just couldn't say no, even though I was terrified.
The coach had a plan for me. First he had me in every morning at 7:00 a.m. shooting free throws. That's where I would score points for the team. And in practice after school, he taught the team a defense that used my height and enormously long arms to target the opponents' best shooters. The coach had a gift of arranging people according to their gifts. Outside of free throws, I scored very few points that season, but my defensive abilities offset those deficiencies. We won the conference championship two of the three years while I was in middle school. The best part was that the coach chose me, and I belonged to the team.
We belong to God's team. We call it "the church." His favorite name is "'the Body of Christ" We don't choose to belong, He chooses us. But don't be surprised if there are times that you feel like a middle schooler in His Church. You're a growing disciple—neither child nor fully developed adult when it comes to the Kingdom of God. But, fear not! You were made for this very time and place.
In Baptism, God called you by name into His office. He said, "You're mine!" What's more, Jesus' life and sacrifice forgives your sins and raises you up to a special place in the Kingdom of God. Don't listen to the school yard trash talk or the insecurities the devil plants in your thoughts. God made you with love and formed you with a plan that fits you perfectly.
Personality
This week we look at two characteristics that shape your calling in the Kingdom of God. The first is your personality. On the next page is a simple personality test. In each of the four boxes, circle the words that describe you best. Don't over-think them, go with your first impressions. We use four animals to name and describe these personality styles (Lion, Otter, Golden Retriever, and Beaver). Count the number of words you outlined in each section and write the dominant one(s) in the back page of this booklet.
As you read and reflect on scripture this week, you will read a short description of the four personality styles. You will also observe how Jesus functions in each of them. You will see that Jesus adjusts His style in different situations. You do as well. It's good to know more about each personality for understanding yourself, for adapting to situations, and for understanding how you fit with people who are different. While none of us is limited to one personality style, we often favor one as our strength. There is no "preferred personality." They all serve the Body of Christ.
Personality Test
In each box, circle each word or phrase that best describes a consistent character trait of yours. You may choose more than one. Add up the total number of words or phrases circled in each box and mark your score on the line provided.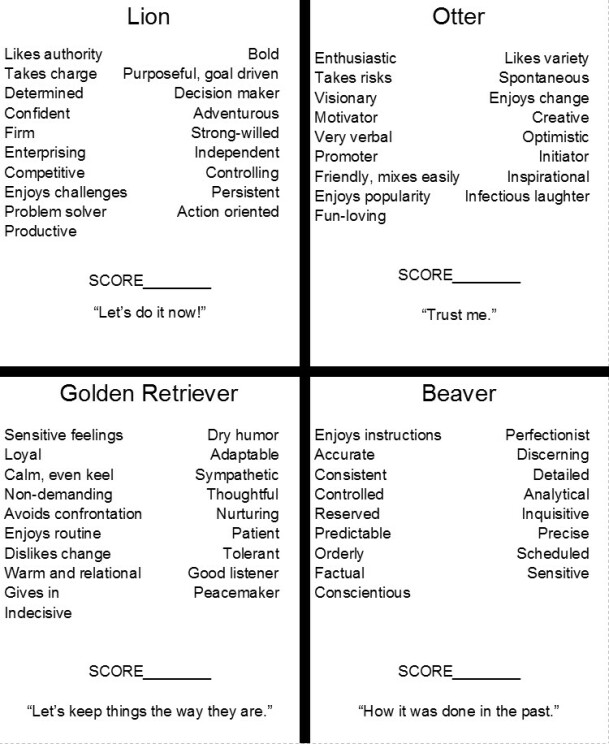 Experiences
The second characteristic we will look at this week is the experiences we have had in life. There are many types of experiences, but we look at two kinds at the end of this. Experiences of success celebrate accomplishments the Lord has done in your life. All of us have experiences of successes that we draw upon to address current and future opportunities.
Another kind of experience is one of sadness. Experiences of going through crisis are painful, but given time to heal and reflect on the grace of God, we can draw great strength, gratitude, and inspiration for serving in the Kingdom of God. It is often our times of pain that shape our strongest connections to ministry. As you read and reflect on scripture, recalling both experiences of success and sadness, write a few sentences below.
God has shaped my life through these key experiences of success...
God has shaped my life through these key experiences of sadness…
Sunday, September 10
Read: 1 Corinthians 12:12-27
Reflect: How do these words make the case that we belong to Christ and we belong to one another in the Church? How does this impact the understanding of your identity?
For the Family: Draw picture of a body. Talk about what each part can and cannot do. How are you like one or more of those parts? What can we learn about Jesus' Church when the Bible says we are like a body with different parts and each of us belongs to it?
Note: In the following days, there are not specific family questions. The animals used for the personality type can be helpful to children and adults alike.
Monday, September 11
The Beaver: Some people help us by being like Beavers. They are workers who are very organized. They have a way about their work that there's a right way to do it and want to do it exactly that way. They are pretty creative too. The like to solve problems and need to take their time and do it just right. Beavers do not like sudden changes; they need to stick to a plan and follow the instructions. It helps a beaver to have encouragement and reassurance. When are you like a Beaver? Who do you know who is like a Beaver? Why are Beavers important to everyone?
Read: Luke 19:28-34
Reflect: How does Jesus behave in this situation like the personality style of a Beaver? Why is it important for the plan to be just right and for Him to stick to it? How does His action ultimately impact your life?
Tuesday, September 12
The Otter: Some people help us by being like Otters. They a fun to be around and love to see people get together in a group. They love people and enjoy their attention. They influence and motivate others. They are sensitive and can get hurt when people do not like them. Otters usually have lots of friends, but sometimes not deep relationships. They can be less organized (like having a messy room or desk). Otters like to hurry and finish jobs. When are you like an Otter? Who do you know who is like an Otter? Why are Otters important to everyone?
Read: Luke 19:35-40
Reflect: How does Jesus behave in this situation like the personality style of an Otter? Why was it important for crowds to gather around Him, spread their garments on the ground, and shout praises to God?
Wednesday, September 13
The Golden Retriever: Some people help us by being like Golden Retrievers. They are the lovable and loyal friends. They do not like big changes and try very hard to help friends get along when there's conflict. They are filled with compassion and are very caring. They will make big sacrifices to help others. They are very sensitive and want to keep people safe. They tend to have a small circle of friends who are very close. When are you like a Golden Retriever? Who do you know who is like a Golden Retriever? Why are Golden Retrievers important to everyone?
Read: Luke 19:41-44
Reflect: How does Jesus behave in this situation like the personality style of a Golden Retriever? Why is He so sad? What does He desire for your relationship with Him?
Thursday, September 14
The Lion: Some people help us by being like Lions. They like to lead and easily take charge. When there is an emergency they jump in. They are good at making decisions and are very goal-oriented. They enjoy challenges, difficult assignments, and opportunity for more responsibility. Because Lions are thinking of the goal, they can sometimes step on people to reach it. They have to remember God made their gift to serve, not to be bossy. When are you like a Lion? Who do you know who is like a Lion? Why are Lions important to everyone?
Read: Luke 19:45-46
Reflect: How does Jesus behave in this situation like the personality style of a Lion? Why was it so important to Him to take charge? What was His goal? What challenges did/would He face?
Friday, September 15
Read: 2 Corinthians 9:8-15
Write: Recall and write below a short summary of key experiences of God's blessing and success that still have an impact on your life today.
Reflect: How have your past experiences of success influenced your faith and generosity today? How are you investing in others with the success God has given you? How has/will your story be multiplied, producing many expressions of thanks to God?
For the Family: Take turns sharing thing that happened for you or your whole family that really made you happy? Write them down and say a prayer of thanks together.
Saturday, September 16
Read: 2 Corinthians 1:3-11
Write: Recall and write below a short summary of a sad time in your life that God helped you through and now influences how you see and respond to others' suffering.
Reflect: How have your past experiences of sadness been comforted with God's grace? How did God help you? What helped? What was hurtful? How have you been able to comfort others with the comfort you have received from God?
Small Group Conversations
Week One: We Belong
Take turns sharing a very brief description of an informal group or organization outside of the church that you belong to. What was involved in joining the group? How did the others in that group give you a sense of value and belonging?
What does it mean "to belong" to a church? How is "being a member" the same and/or different from "belonging?"


Read: 1 Corinthians 12:12-27
a. "The Body" is more than an illustration here; it is an organic and spiritual relationship God has arranged for us to experience with Christ. Describe what it means to "Belong to the Body."

b. When have you (or someone you know) felt a disconnect with "the Body?" Where is there grace for you in these words of scripture?

c. What is the relationship between our unique identity as individuals and our belonging to "the Body?"


Review (or complete now) the Personality Test on page 8. Be sure to add your preferred (strongest) style to the summary page at the back of this booklet. Share with one another your personality style. How is "personality" connected to "belonging" in "the Body" of Christ?


The following chart describes a general overview of the strengths, weaknesses, communication styles, and needs of the various personality styles. Review verses 22-26 and discuss how these verses speak to our different styles and how we can value one another who all belong to "The Body."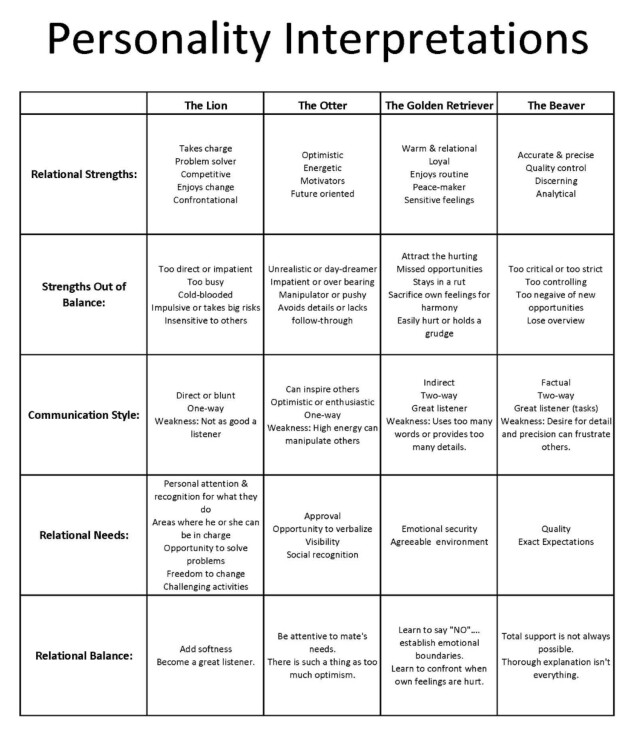 Experiences of success and sadness impact us in "The Body" (see v. 26). Share one experience that has impacted your life and your calling as one who belongs to Jesus and His Church.


If time permits, review the "Read and Reflect" devotional sections for Friday and Saturday on pages 11 and 12. Then provide a summary of those experiences on the back page of this book.


Group Vision Exercise: How is the Spirit calling our group to prepare/support/invite those who do not yet "Belong" to a small group?