Nerf Game Details
Nerf Game Details
Hey Nerf-enthusiasts, we're excited to try out some Nerf battles at the lock-in coming up. There will be Nerf darts supplied for game play. These will be "N-strike Elite" style darts that look like this: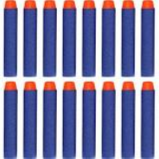 Bring any Nerf or Nerf-compatible blasters to the event that will work with these darts (the darts above should work with most blasters). For those who may not have a launcher, there will be a few to borrow. Come ready to have a great time!
YOU MAY BRING YOUR OWN AMMO (of any style, see below) and THERE IS NO LIMIT ON THE TYPE OF NERF BLASTER, (for instance, if I owned it, I would bring:)
However, please consider the following:
1) If you bring a specialized launcher that requires specialized ammo (Nerf "Rival" balls, Nerf Mega darts, etc.), realize we cannot guarantee you will get the same number back when the night is over and...
2) Specialized ammo may not be easily collected during game play once you run out. That means you will have to run in to enemy territory dodging the prolific avalanche of nerf foam that will fall upon you as you seek out your ammo.
2a) We have 900 darts on hand. If you feel in the mood to share, bringing your own collection of universal nerf darts to add to the mix is not discouraged. We will do our best to mark the darts you bring - we just cannot absolutely guarantee all will return to you.
We will "check in" all equipment so it finds you when you leave. Label your equipment (blaster, magazines, accessories) ahead of time w at least your last. Games will have a referee in case you can't tell you've been hit.
We should have some fun "atmospherics" to help with game play. You'll find out more about it that night.