Faith 101
What is Faith 101?
The goal of Faith 101 is to help middle school students identify with the life and mission of the church into which God has called them.
Through our Wednesday night meetings, retreats and related projects, we delve into what Scripture says about God and us.
Faith 101 is not about classes, but about discipleship. Our goal is that all components work together so that kids know God and the love He showed to them in Jesus.


SIGN UP HERE

COMPONENTS
Regular worship and Bible Class (75% of Sundays)
Faith 101 classes
1st, 2nd and 3rd Wednesdays of the month, beginning September 7 through April 16

6:30-8pm

North Classrooms

2017-2018 Faith 101 Calendar -

Click here!
Retreats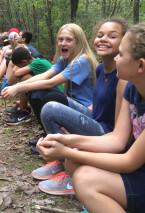 6th and 7th grade Spring Retreat - Camp Trinity, New Haven, MO, March 9-11, 2018
8th grade Fall Retreat - YMCA Camp Lakewood, Potosi, MO -

October 6-8, 2017
Confirmation Project (8th grade)
Components include serving, Scripture reading, interviewing someone about his or her faith, and sharing a statement about their own faith in Jesus with the congregation.
8TH GRADE PROJECT SIGN UP FORM
WHAT TO EXPECT ON WEDNESDAYS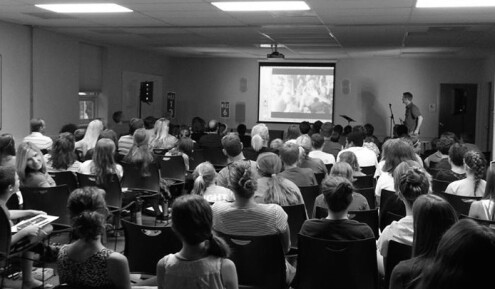 Faith 101 is 6:30-8pm in our North Classrooms. Enter through the doors in the east parking lot.
6:25-ish pm...You'll walk in and someone will be there to greet you and check you in. There are some tables set up in the back of the rooms and rows of chairs up front. There will probably be some music videos or interesting YouTube videos playing on the screen.
6:30pm ... Announcements and a game (maybe you'll get to be the one who tries to stick mints to someone else's head!).
6:45pm...Maybe a couple praise songs
6:50pm...Large group session: Pastor BK talks about the topic of the day. You'll receive a handout with places to write and blanks to fill in.
7:20pm...Small group sessions: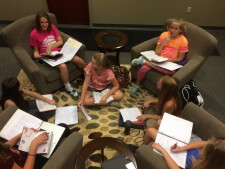 Students break into small groups led by an adult leader. Questions will guide the discussion on the evening's topic and the groups pray together. Small groups are divided by grade and gender.
8pm...We're done! Your folks can pick you up at the east parking lot!
WHAT TO BRING?
Your Bible
Your Faith 101 binder
Your Catechism
Something to write with
HOW DO I REGISTER?
First of all, you can always just show up to check out Faith 101! To formally get involved in this process of spiritual growth, please sign up below!