Faith 101
What is Faith 101?
The goal of Faith 101 is to help middle school students identify with the life and mission of the church into which God has called them.
Through our Wednesday night meetings, retreats and related projects, we delve into what Scripture says about God and us.
Faith 101 is not about classes, but about discipleship. Our goal is that all components work together so that kids know God and the love He showed to them in Jesus.
Faith 101 Registration
COMPONENTS


Regular worship and Bible Class (75% of Sundays)
All 6th-8th

graders and their friends are invited to come to Faith 101 to grow in community and learn! If your student plans to participate in the Confirmation Service (Fall of 9th

grade), please note that worship participation is the most crucial component of discipleship and is expected of our families who confirm their faith in 9th

grade.
Faith 101 sessions
1st, 2nd, and 3rd Wednesdays of the month

6:00-7:30pm

North Classrooms

2019-2020 Faith 101 Calendar -

Click here!


Retreats
Retreats are key components of Faith 101. No weekend is completely free of conflicts for everyone, but we strive to schedule retreats at the best times we can. Please make this weekend a priority for your student to attend, and feel free to contact Pastor BK with any questions.
6th and 7th grade Spring Retreat - Camp Trinity, New Haven, MO, March 27-29, 2020
8th grade Fall Retreat - YMCA Camp Lakewood, Potosi, MO -

September 13-15, 2019
Confirmation Project (8th grade)
Components include serving, Scripture reading, interviewing someone about his or her faith, and sharing a statement about their own faith in Jesus with the congregation.
Step 1: Parents and students: read Confirmation Project Guidelines (this will walk you through the confirmation project components).
8TH GRADE CONFIRMATION PROJECT GUIDELINES
Step 2: Complete the Confirmation online form which includes a sign-up for a prayer partner. We assign an adult "prayer partner" from Webster Gardens to pray for each 8th-grade student. Prayer partners will pray for students beginning in the fall, and then students will meet their partners at a dinner at the Youth Center on Wed Dec 5 (the first Wednesday of Advent, more info to come in the fall). Click on this button below and you will find the form that will help your students' prayer partner know a little bit about them before they meet at the December dinner.
8th Grade confirmation project form
Step 3: Sign up for these three important dates:
*Parent/Student meeting with Pastor Christiansen/King/Zech Teasdale (15 minutes): to hear about student's project progress and help them get a start on their faith statement.
Wednesday, September 25 between 3:30-6:30pm

Sign up here!
*Student meeting with Pastor Christiansen/King/Zech Teasdale (15 minutes) to review the students' Faith statement.
Tuesday, January 29 between 3:30-6:30pm

Sign up here!
*Sharing faith statement in worship
Sunday, June 7 – August 9

Sign up here!
---
WHAT TO EXPECT ON WEDNESDAYS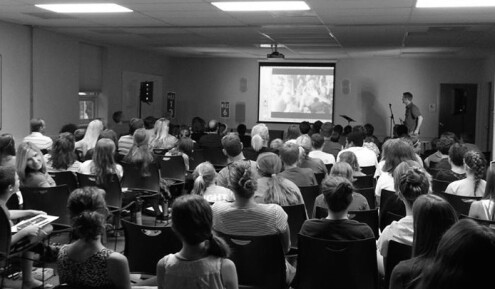 Faith 101 is 6:00-7:30pm in our North Classrooms. Enter through the doors in the east parking lot.
5:55-ish pm...You'll walk in and someone will be there to greet you and check you in. There are some tables set up in the back of the rooms and rows of chairs up front. There will probably be some music videos or interesting YouTube videos playing on the screen.
6:00pm ... Announcements and a game (maybe you'll get to be the one who tries to stick mints to someone else's head!).
6:15pm...Maybe a couple praise songs
6:20pm...Large group session: Pastor BK talks about the topic of the day. You'll receive a handout with places to write and blanks to fill in.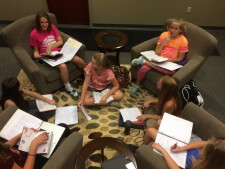 6:50pm...Small group sessions: Students break into small groups led by an adult leader. Questions will guide the discussion on the evening's topic and the groups pray together. Small groups are divided by grade and gender.
7:30pm...We're done! Your folks can pick you up at the east parking lot!
WHAT TO BRING?
Your Bible
Your Faith 101 binder
Your Catechism
Something to write with
HOW DO I REGISTER?
First of all, you can always just show up to check out Faith 101! To formally get involved in this process of spiritual growth, please sign up below!